Analogies
An analogy is one of the most powerful tools you have at your disposal when you need to explain something. In the movie Road Trip, one of the characters has only a few hours to learn a huge amount of stuff for a uni exam. If he flunks the exam, he gets chucked out of college. So the stakes are high.
One of the guys with him explains that he can teach anyone anything, as long as he can find some way to connect to the person needing help. In this case, they 'connect' through world championship wrestling - that fake wrestling where huge guys run around a wrestling ring and pretend to fight, albeit convincingly.
So what this guy does is find some way to use wrestling characters to explain every topic he needs to teach his friend. In this way, he manages to teach his friend a heap of stuff that the friend will actually remember because it's linked to one of his favourite things - wrestling. In the end, the exam is delayed anyway, so there's no problem. Hire out the movie if you want to see what happens!
Another way to look at it is to think of an analogy as a comparison between things that share some similarity but are otherwise completely different. For instance, you might think that the relationship between your dog and your cat is very similar to the relationship between your mum and your dad. Animals and humans are two very different things, but they might share a similarity, such as the way they treat each other.
Here's an example of how you can use an analogy to help explain a difficult topic: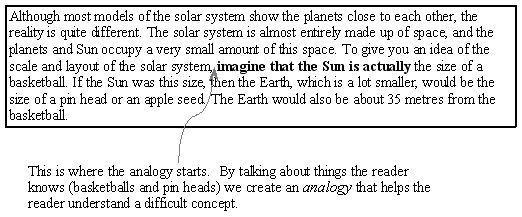 Click here to move on to the next topic: Paraphrase