Using the correct sequence of tenses
Sometimes you combine parts of a sentence that are in different tenses - one part may be in the present tense and the other part may be in the future tense; for instance, like this one:

This sentence is fine - there's a logical progression of tenses. The first part says what I am doing right now, the next part tells what I will be doing in the future. But there are tenses that you can't combine. For instance:
I was running in the park, although it is snowing.
Whoa! Doesn't quite sound right when you read it aloud. This is because there's an error with the tenses - the main clause is in the past progressive tense - 'was running', but the dependent clause that comes after it is in the simple present tense - 'it is snowing'.
Here are some tree diagrams that show you what tense combinations are acceptable. The tense on the left of the diagram is the tense of the main independent clause, and the tense options on the right are what you can use for the subordinate or dependent clauses in the sentence. An example sentence is given with each one.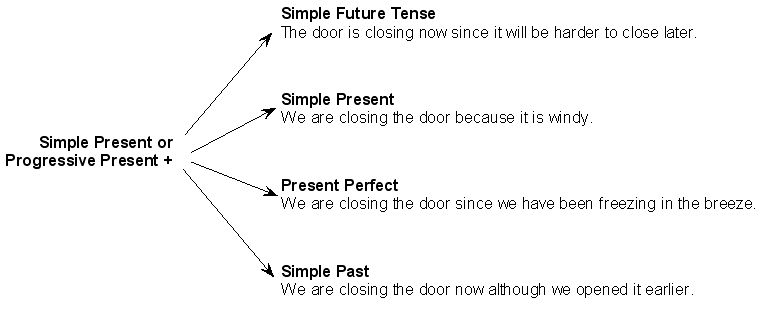 One of the tricky tense things I've always had problems with is combining the simple past or progressive past with the present tense, like in this sentence.

You can do this when the present tense clause is saying something that is a general belief about something. Of course, you may disagree, but as long as it's something that could be a general belief, it's fine. Usually the 'something' that you're describing is from the first part of the sentence and hasn't changed significantly from the past until now. This sort of tense combination often comes up when you're writing historical essays, and you're talking about what the people of the time believed:
A few hundred years ago, people believed the world was flat, even though it is round.
Click here to move on to the next topic: Writing numbers correctly